Multi-Point Inspection
in El Paso, TX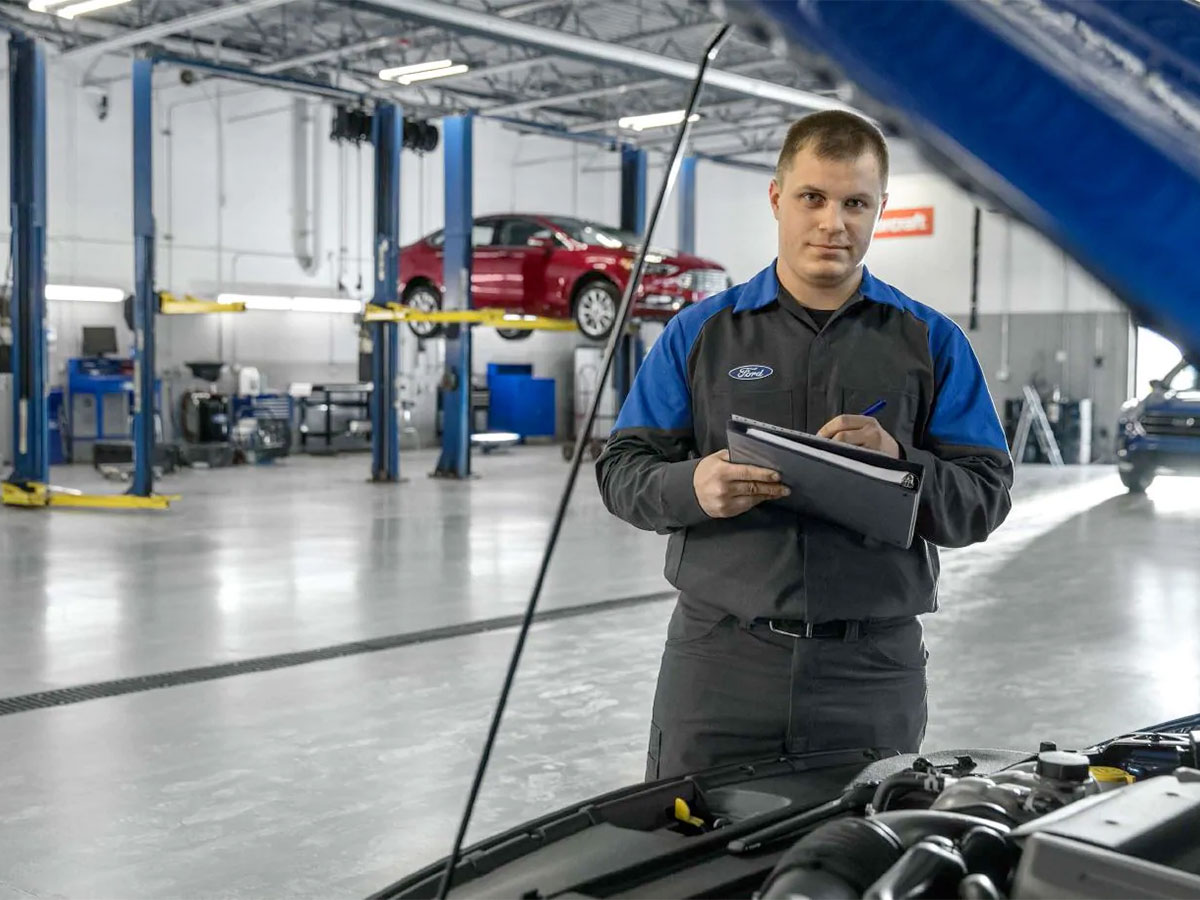 Recommended Every Service
Bring your vehicle in for a Multi-Point Inspection at NO CHARGE. From inspecting belts and hoses to checking tire pressure and battery terminals, our Factory Certified Technicians will make sure your vehicle is in great shape.
Ford Multi-Point Vehicle Inspection Near Fort Bliss, TX
Multi-point inspections are the hallmark of vehicle maintenance and repairs. Who you choose for your Ford multi-point vehicle inspection is important. We recommend certified Ford service, including a genuine Ford inspection form completed by a certified technician that understands your vehicle inside and out. Every component that we check receives a risk score related to maintenance needs. You will speak with a knowledgeable service advisor regarding the outcome and schedule corrective maintenance as needed. Schedule a multi-point inspection today at Viva Ford in El Paso, TX.
Service & Parts Specials
Proactive & Responsive Multi-Point Vehicle Inspections
Drivers have several reasons to schedule multi-point inspections, but they fall under one of two categories: proactive or responsive. Proactive multi-point inspections are adopted by owners that want to achieve the best results by catching minor problems and fixing them promptly to limit risk and reduce long-term maintenance cost. Other drivers schedule multi-point inspections in response to performance trouble, which is always a good idea. Still, these problems tend also to threaten reliability and safety and cost more to fix.
Certified Ford Multi-Point Inspection Summary
A certified Ford multi-point inspection is organized by vehicle area and generally includes, but is not limited to, these areas/components:
Fluids - We check all fluids and top off as needed, including oil, windshield wiper, brake, transmission, power steering, coolant, and transfer case.
Under Hood - We check everything inside the engine compartment, including drive belts, filters, engine cooling system, horn, heating components, A/C system, and battery with load testing.
Under Vehicle - We inspect the suspension/steering components, exhaust, CV drive axle boots, and leaking fluids.
Outside - We walk around the vehicle's perimeter, checking the windshield, wiper blades, and all lights.
Brakes - We perform a visual brake inspection, including the calipers, rotors, lines/hoses, parking brake, and measure brake pads.
Tires - We check all tires for irregular wear and sidewall damage. Each tire has the tread depth measured. We check and adjust air pressures to specifications. The certified technician will recommend tire maintenance based on the results, such as tire rotation, replacement, wheel alignment, or balance.
Additional Services:
Synthetic Oil Change
Conventional Oil Change
Tire Rotation
Four-Wheel Alignment
Transmission Fluid Exchange
Schedule Multi-Point Inspection Service at Viva Ford in El Paso, TX
Local Ford drivers can schedule multi-point inspections by phone or at the online service scheduling tool. Should you need service done, be sure to check our service specials for discounts. More Ford owners have discovered that the online scheduler is the way to go because it's always available and requires the same amount of time as a phone call.
Schedule Service
Viva Ford Service Department Amenities
Comfortable Waiting Area
State-of-the-Art Facility
---